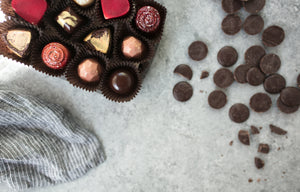 Celebrate your multi-cultural team with classical cultural inspired bonbons.
Gratitude through flavors.
Deepen your connections with your multi-cultural team members through cultural flavors, as they were traditionally meant to be.
A petite box filled with decadent flavors that celebrate the multi-cultural story in all of us.
Contact Us
A 16 piece box filled with our sginature bonbons that represent the cultural diversity of your team.
Contact Us
A 24 piece box filled with signature bonbons that have direct connections to specific culture.
Contact Us
Awards & Recognition
Team Building Event: With A Virtual or In-Person Events.
Chocolate Tasting
One Hour — $95 per person.
Plan your event now!
Make Your Own Bar
90 Minutes — $125 per person.
Plan your event now!!
Make Your Own Bonbons
Three Hours — $200 per person.
Plan your event now!
★★★★★

Charlotte did a fabulous job!! We had a few hiccus in our shipping and she followed through every shipment.

We truly appreciate her follow through on this!

Leslie, P

Redwood City, CA.
★★★★★

We used Charlotte Truffles for our client gifting. And our clients truly loved it!!

Her attentiveness to detail was truly appreciated!!

Jackie, J

Walnut Creek, CA.
★★★★★

We frequently use Charlotte Truffles boxes for our team's holiday gifting. Her chocolate is always so popular and they can't wait for the next holiday season.

We couldn't be happier to support a local shop!

Wynne, G.

Mountain View, CA.
★★★★★

Anytime my OUS team come onsite, we always close off their week-long visit with a dinner.

They know they will always get Charlotte Truffles Boxes during Dinner. It is always a complete hit!

Charlotte makes it super easy to show my appreciation toward my team.

Rohan, G.

San Jose, CA.
★★★★★

Every time I need any team gifting, I always go with Charlotte Truffles.

Greg, W.

Santa Clara, CA.