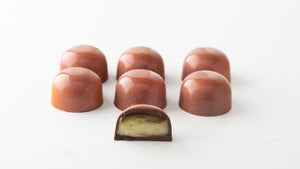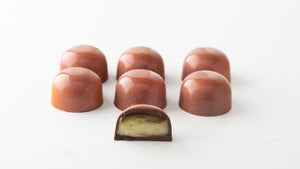 Warm Shipping method is in place.
At Charlotte Truffles we take pride in creating high-quality products. To ensure that your chocolates reach their destination safely, we have created a shipping policy that would deliver our products to their best quality. 
We highly recommend shipping orders to an address where
the recipient will be available to receive them. 
Warm Weather Shipping
We monitor the weather that the chocolate products are being shipped to. 
To maintain a minimum transit time during the warm season, Ground Shipping is limited to regions based on the proximity to our facility in Santa
Clara, CA.  Customers that are further away will only see 2nd Day Air, or Next Day delivery options during checkout. Ground shipping to further states will resume once it's cool enough and deemed safe.
During warm shipping season, we need at least 24 hours to prepare your package before it is sent out. Same-day shipping will not be available.  Our cutoff time for next-day processing (not shipment) is 12:00 PM PST.
Shipping Policy
We strongly recommend reviewing the order for addresses, the recipient's name, and the company before completing the order.   Updating the address may not be able to be made if an order has already been printed for shipping, which would typically occur on or the morning of ship out date. This is especially true during peak shipping seasons
around the Holidays. There is a $20 fee to modify the shipping address or reroute the package after it has left our facility.
After your order has been placed, you will receive an order confirmation to the email address provided during checkout. Once your order has been processed, you will receive another email with tracking information stating that a shipping label has been created. If you have any questions regarding the existing order(s), please email orders@charlottetruffles.com
with your order number and your questions. We will get back to you during our working hours.
Order Processing Timeline:
Charlotte Truffles is not liable for failed deliveries or damaged deliveries due to:
Customer who provided an incorrect/outdated address.
Failed deliveries or rerouted packages
Delayed deliveries due to weather conditions.
Customer selects a slower shipping option that differs from the suggested guidance.  
Charlotte Truffles does not ship to:
PO Boxes.
International shipping
Alaska and Hawaii
We do not ship on:
Do not ship on Friday- Sunday.
On Holidays:
Independence Day
Memorial Day
Labor Day
Thanksgiving Day
Christmas Week: December 25th - December 31st
New Year's Day: January 1st