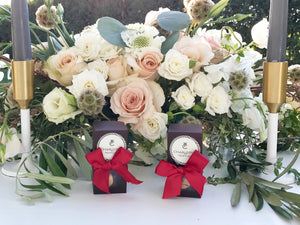 Blend your multicultural story into your big day!
Union of two families
The union of two people represent just them. It represnets the union of two families, two cultures, two traditions and two stories. Immerse your family's cultural stories into your wedding day.
Immerse your heritage into your wedding day.
Represent your union by choosing flavors that connect to your multicultural stories
Awards & Recognition
Group Experience: Make it memorable with chocolate.
Chocolate Tasting
Ask us for a Quote
Make Your Own Bar
Ask for a Quote
Make Your Own Bon Bons
Ask for a Quote
★★★★★

I fell in love wiht your bonbons Not only are they stunning, but they are delicious. And, my mom surprised me with a custom bridal shower favors. I absolutely LOVED it!!

Christina H.

San Jose, CA
★★★★★

I truly appreciated Charlotte's attentiveness to details. We had an allergy concern with some of our guests. She was very transparent with how and where the products are produced.

Because of that, we were able to select the bonbons that fit our guests' needs. We totally love our entire experience and we highly recommend it!

Abby A.

San Jose, CA
★★★★★

I bought my entire wedding party a box of her chocolates. They completely loved how luxurious and decadent these truffles are.

They devoured these bonbons during our brunch after the wedding.

Jen N.

Pleasanton, CA
★★★★★

We wanted to find flavors that truly represented our cultures. So we were excited to see Rose Water Saffron as an option.

Our parents and friends completely fell in love with every bite of the bonbon. We truly felt like we were transported back to India. Thank you for making Our day even more special!!

Khushboo M.

Palo Alto, CA